Apply Now: i4Trust Open Calls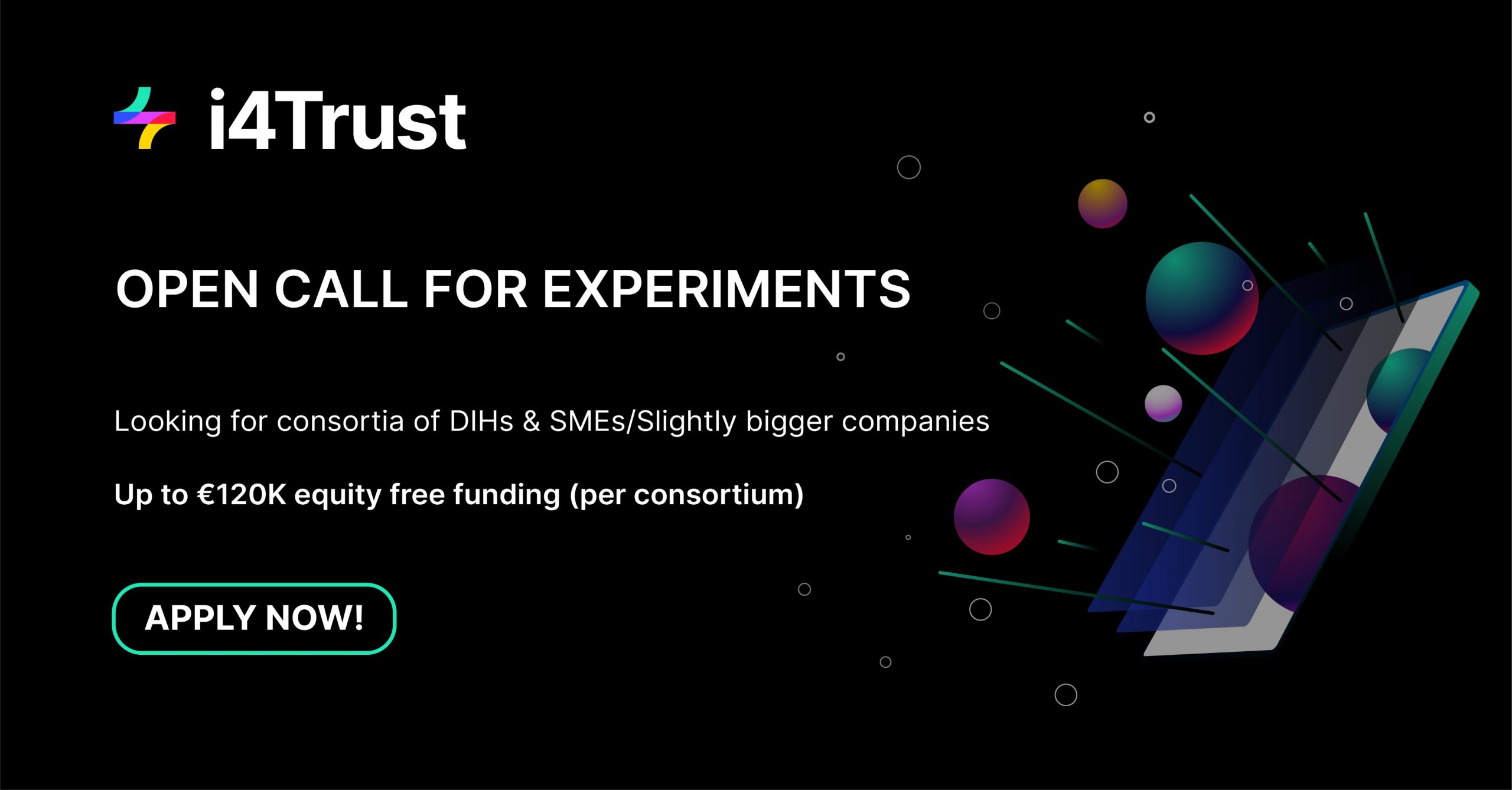 i4Trust is a collaborative initiative boosting the development of innovative services around new data value chains in multiple sectors. i4Trust is building a sustainable ecosystem where companies will be able to create innovative services by means of breaking "data silos" through sharing, re-using and trading of data assets.
There is no doubt that digital transformation offers new business opportunities for SMEs, however, there are still significant barriers that limit their ability to share data and capture the real potential for innovation.
European Digital Innovation Hubs (DIHs) are called to play a key role in this respect since their mission is to find common mechanisms that could help their local startups, SMEs and slightly bigger companies to really scale up their businesses, contributing to the creation of smart cross-domain and cross border solutions. Ultimately, coming up with new business models fitted to solve most of the issues that are holding the EU back from realising its potential in the data economy.
In this context, the main goal of the i4Trust initiative is to boost the development of innovative services around new data value chains. We achieve this by providing the right tools, training, mentoring and funding for the creation of Data Spaces enabling trustworthy and effective data sharing. Ecosystems of collaborating SMEs and supporting DIHs will emerge in a sustainable way around such Data Spaces. Throughout the duration of the Project, i4Trust will launch two open calls to select up to 32 Bottom-Up Experiments.
i4Trust will help generate significant benefits for European SMEs that are not yet data-driven, in terms of innovative power and higher sales and revenue. Selected SMEs and DIHs will receive funding as a lump sum, ranging from €72,000 to €120,000 per consortium, depending on the number of members within each consortium.
Besides the financial support, they will join a tailored mentoring program that will onboard them into a vibrant community of collaborating SMEs, DIHs and technology partners around Data Spaces. i4Trust will help them create new services for their current customers, win new ones or enter new markets. By participating in the i4Trust community, SMEs selected through the open call will benefit from sharing knowledge and know-how as well as participation in events at the European and International levels. This will support the creation of links and synergies between them and the development of new business opportunities on an international level. Up to 32 selected Bottom-Up Experiments (up to 16 per each open call) will become part of a customized 9-month i4Trust Data Sharing Mentoring Program, which includes:
Refinement of the proposed Use-Case definition
Mentoring support for workforce re/up-skilling
Mentoring support on legal, operational, technical and business matters
Support on i4Trust technologies (building blocks).
The first i4Trust open call has been opened from May 12, 2021, and will close on October 25, 2021 at 14:00 CEST.