Apply Now: IntellIoT Open Call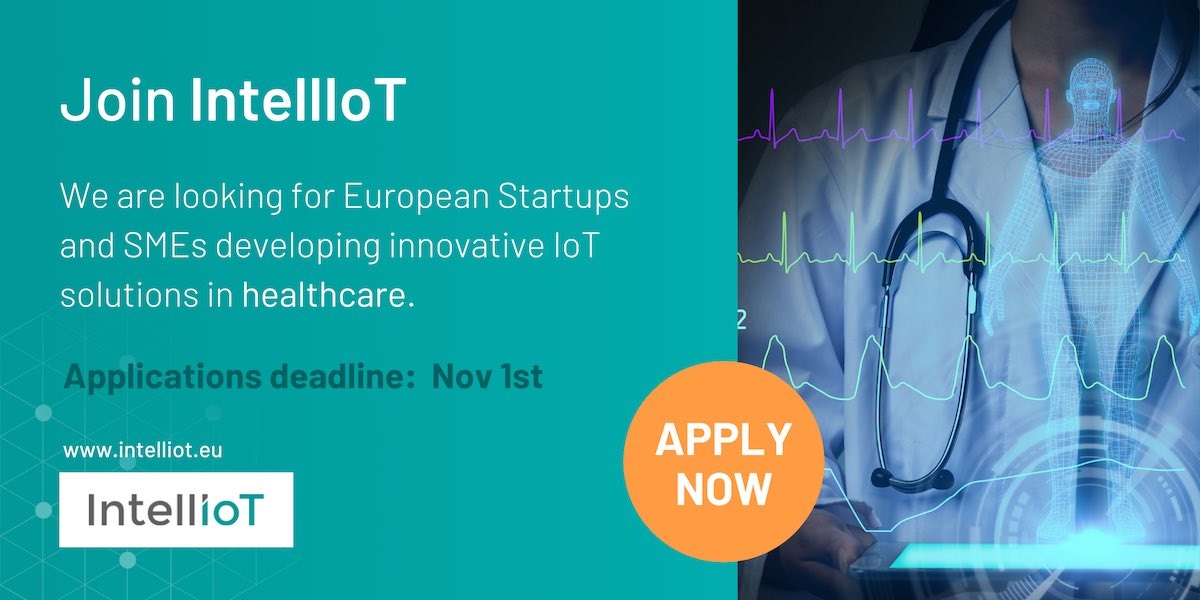 IntellIoT's mission is to enable the execution of semi-autonomous IoT applications for AI-enabled systems. With its partners in three main sectors – agriculture, healthcare, and manufacturing – IntellIoT is building an ecosystem united by a shared vision committed to privacy, security and trust, in which the intelligence of humans and devices can seamlessly intertwine. The consortium's projects aim to overcome limitations of traditional cloud-centric IoT such as unreliable connectivity, privacy concerns, or high round-trip times.
IntellIoT is a Pan-European Research and Innovation project supported by the European Commission with an EU funding of EUR 8 million. It fosters the development of humanised IoT and AI devices and systems.
It comprises a consortium of 13 partners spread across 9 countries. The initiative aims to facilitate a competitive ecosystem and to strengthen the European market in finding solutions applicable in healthcare, agriculture and manufacturing. Enabling technologies such as 5G, cybersecurity, distributed technology, Augmented Reality and tactile internet, the project champions end-user trust, adequate security and privacy by design.
In the upcoming 3 years, IntellIoT will also support SMEs and startups in Europe with funding and access to technology per pilot projects executed in collaboration with the IntellIoT consortia partners.
The Open Calls will be used to gain feedback from the participants on the developed framework and technologies as well as to explore different novel business models applied by the Open Call winners. In the case of Open Call 1, this feedback will be considered for the evolvement of the framework in its 2nd release. The Open Call 2 results will feed into the demonstration of the 2nd release of the IntellIoT framework and will aim to build a sustainable ecosystem beyond the project.
Applicants are invited to submit a short outline of their technology and business proposition, highlighting how they may integrate with the IntellIoT framework. The submissions will be evaluated by independent and external experts based on clearly outlined criteria, resulting in the selection of the four best companies per Open Call. The four selected companies each gain access to the IntellIoT project within a 6-month pilot to work with the IntellIoT partners on the framework and use cases. In addition, the selected organizations will receive up to 150,000 Euro for their efforts in accordance with the selection criterion on economic fairness and as necessary to achieve the objectives of the action.