ELISE – First Open Call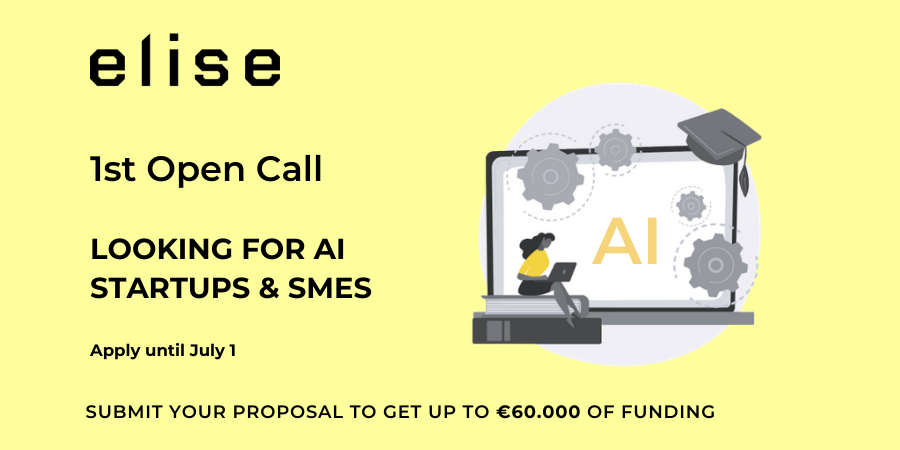 Receive funding up to
 

€

60.000

!
For the best 16 SMEs and Startups that develop novel AI-based services or applications!
With the support of a scientific advisor, the European Network of AI Excellence Centres (ELISE) will select 16 SMEs and start-ups in one of the ELISE/ELLIS focus areas with the support of a Scientific Advisor.
The European Network of AI Excellence Centres (ELISE) is a network of artificial intelligence research hubs where the best European researchers in machine learning and AI work together to attract talent, foster research through collaboration, and inspire and be inspired by industry and society.
In its first open call, ELISE will select 16 SMEs and start-ups that develop AI services or applications. The companies selected will take part in a six-month program and receive up to 60,000 euros in funding. While focus areas are based on ELISE/ELLIS research programs,  proposals for projects that use machiine learning to address major societal and economic challenges will also be considered. The deadline for applications is July 1, 2021.
ELISE is looking for projects based on AI applications that address the development and implementation of technology and systems applicable to the following focus areas:
Geometric Deep Learning: graph, group and gauge convolutions
Robust Machine Learning
Interactive Learning and Interventional Representations
Machine Learning and Computer Vision
Robot Learning: Closing the Reality Gap
Human-centric Machine Learning
Theory, Algorithms and Computations of Modern Learning Systems
Quantum and physics-based Machine Learning
Natural Intelligence
Health
Machine Learning in Earth and Climate Sciences
Natural Language Processing (NLP)
Multimedia / multimodal information
Information retrieval
Explainability and Fairness in Data Mining
Other
Who is a Scientific Advisor?
The Scientific Advisor is a researcher invited by the applicant, who agreed to advise the SME (startup) in developing the AI application or service. The Advisor must have a PhD in a field that is relevant to the project. It is highly recommended to have the Scientific Advisor from ELLIS/ELISE community, but this is not mandatory.