EIT Digital Challenge 2021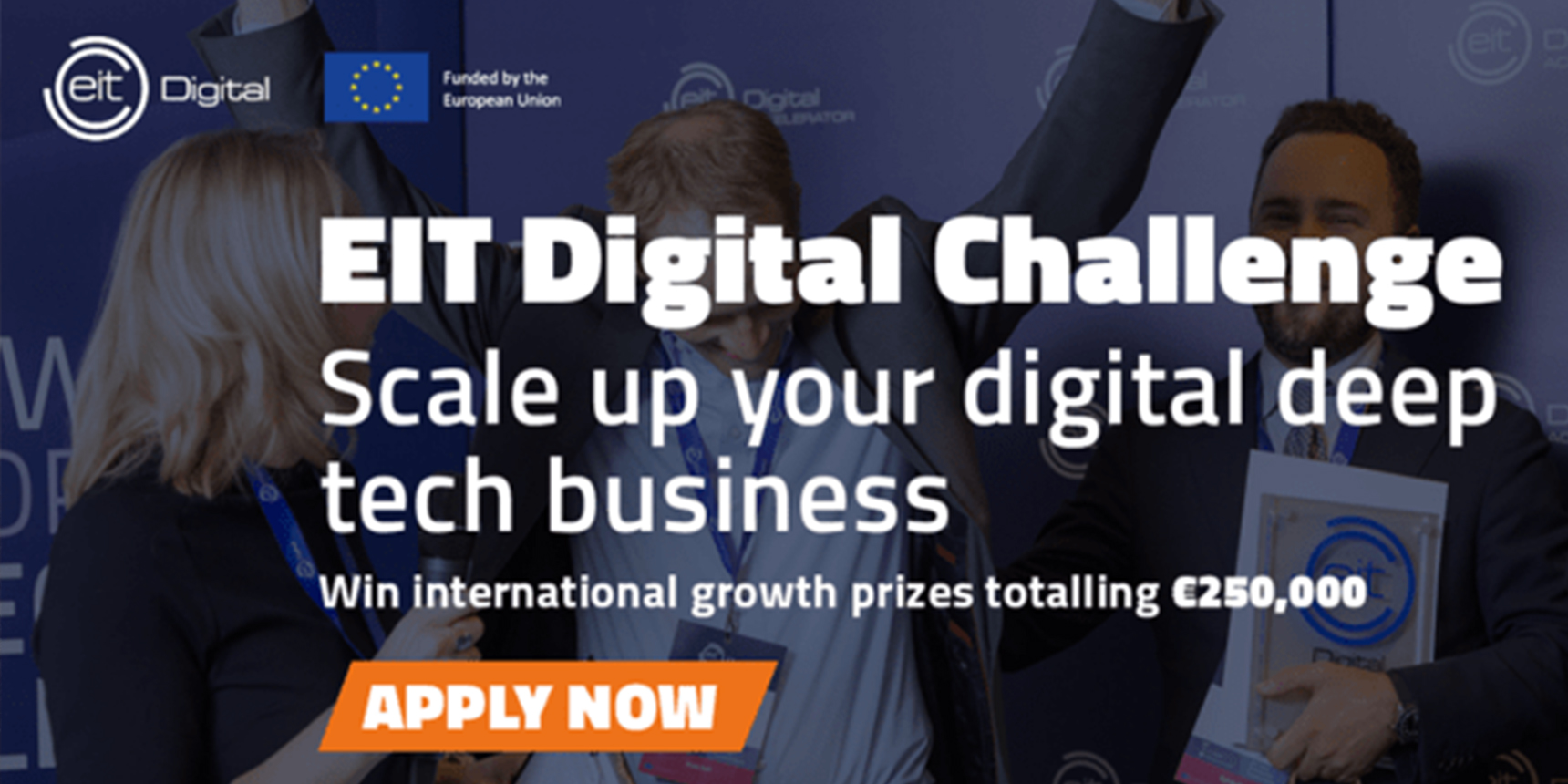 20 scaleups will compete in the final of the EIT Digital Challenge, Europe's leading competition for European digital deep tech companies. Take part in the 2021 edition to win international growth support totaling €250,000 that will be awarded to 3 winners!
Being awarded by the EIT Digital Challenge represents a significant milestone for scaleups on the verge to grow and expand internationally. Europe's flagship Deep Tech competition for fast-growing digital scale-ups, the EIT Digital Challenge, covers a wide variety of topics spanning from Digital Finance, Digital Tech, and Digital Wellbeing to Digital Cities and Digital Industry.
This is a very prestigious award. Having followed my competitors' pitches already made me feel humble to be among these finalists coming from such a wide range of sectors. This variety also shows a strength of Europe that we sometimes forget.
Since its launch in 2014, the EIT Digital Challenge has attracted more than 2,500 entries from all over Europe. Prominent award winners include KONUX, Medicus.AI, or SidekickHealth, digital technology scaleups that have become internationally successful companies. In 2020, a record number of 403 scaleups from 32 countries applied for the competition. Almost 40% of applicants, 55% of the 20 finalists, and 60% of winners feature women as founders or C-level executives. With average revenues of €1.4M, average funding of €7.6M, and average staff of more than 40, the 2020 laureates are the most mature prize winners in the 7-year history of the Challenge. Overall, the EIT Digital Accelerator has supported startups and scaleups from 18 countries that have raised over 1 billion euros in investment.
It is our ambition to help companies overcome the fragmented European market and successfully grow across the continent. The EIT Digital Challenge is our key instrument to identify the best European deep tech entrepreneurs and help them, through our Accelerator, to raise funds, access new markets, and scale up internationally. We support them to become leading companies on the global market and enhance Europe's competitiveness in digital.
I can see all the new opportunities that are opening up for Wishibam across Europe thanks to EIT and it is very very exciting. This is really a team victory that is going to do so much for our development, we are truly thrilled. […] I think we will benefit a lot from the accelerator's network to reach customers in parts of Europe where we haven't yet had a chance to show our potential. The accelerator will also help us meet investors from diverse backgrounds and give us a better appreciation of the different fundraising options that exist across the continent.
Win Cash Prizes & Tailored Growth Support totaling €250,000
This year, the competition intensifies with one winner across all focus areas. "We will select 20 companies out of all applicants and invite them to an exclusive event in the autumn where they will pitch to a jury of high-profile corporates and investors," says Shehryar Piracha, Head of the EIT Digital Accelerator." A total of 3 winners will be announced during this event, one Challenge winner and two runners-up. They all will receive a full year of tailored support from the EIT Digital Accelerator, valued at €50,000. On top of that, the Challenge winner will receive a cash prize of €100,000."
The EIT Digital Accelerator was recognized as one of the five World Top Public Business Accelerators and the program with the best pan-European reach, and as Top 4 European Accelerator brand in the Startup Heatmap Europe report. The Accelerator supports the EIT Digital Challenge winners in scaling up their business by helping them secure international customers in target markets and raise growth funding. In addition, your business gains:
Access to

 

International Markets
Access to

 

Funding & Strategies
Access to

 

Networking with 200+ Pan-European Innovation Partners
International Visibility
Eligibility Criteria for the EIT Digital Challenge 2021
This year, the EIT Digital Challenge takes place for the eighth consecutive year and focuses on Deep Tech digital scaleups with a differentiating product offering, leveraging sophisticated, hard-to-reproduce digital technologies that fuel Europe's digital transformation in five main thematic areas:
Digital Technology: Inventing the digital future with core technologies providing secure, robust, responsive, and intelligent communications and computation.
Digital Cities: Serving the cities with digital technologies addressing urban mobility, citizen inclusiveness and engagement, and city safety.
Digital Industry: The digital transformation of the industry, from production to logistics to retail.
Digital Wellbeing: Safeguarding health for the youth, the working professional, and the elderly by analyzing sensor data.
Digital Finance: The disruption of digital transactions and institutions with technologies that allow transparency, efficiency, security, and trust.
In terms of technologies – the doors are open to all ranging from Artificial Intelligence, Robotics, Drones, and Blockchain to 3D Printing, Big Data, IoT, and more!
Your business is ready to join the challenge if:
Nationality: You are incorporated in the EU 27 + Horizon Europe associated countries (full list here)
Innovative Product/Service: You have an innovative digital product or service in one of the five Deep Tech thematic areas:

Digital Tech, Digital Industry, Digital Finance, Digital Cities, Digital Wellbeing
Additional Information on the Focus Area/Categories

 

here

Founding Year: Your company is less than 10 years old (01/01/2011)
Maturity: Your business is at the growth stage and ready to scale internationally, to be proven by meeting one of the following criteria:

minimum revenue of €300,000 in 2020, or
minimum revenue of €300,000 in 2021 until the date of submission, or
minimum €2,000,000 of total funding
To further support women in tech, EIT Digital especially encourages female founders and leaders (CXO) to join the Challenge in 2021.
Timeline of the EIT Digital Challenge
Submission Deadline: 10 May 2021
Finalist Selection 10 May – July 2021
Finalists Announcement: July 2021
Final Event: September 2021