Global Pharma Booster Startup Call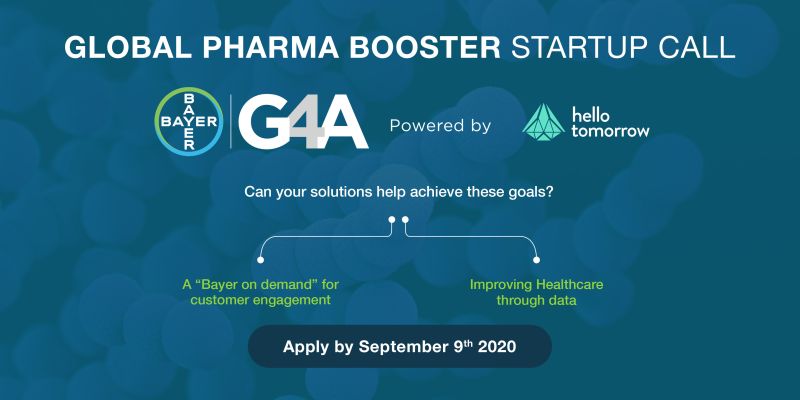 STARTUP3 encourages you to apply for the Global Pharma Booster Programme and win the chance to co-create with Bayer Pharmaceuticals France
!
To face the world's main challenges, industries are calling for innovative solutions that deep tech has the potential to offer. With an ageing population and changing ecosystems, our mission is to: deliver world-class innovation, pioneer digital transformation and set new standards in sustainability.
Join the Global Pharma Booster acceleration programme, powered by Hello Tomorrow and Digital Pharma Lab and turn collaborations into new businesses for the benefit of everyone.
What is the Global Pharma Booster?
A unique, 5-month programme from Hello Tomorrow & Digital Pharma Lab
Helping Pharma companies to source and collaborate with startups developing cutting-edge PharmaTech and HealthTech
International recruitment of the best startups by Hello Tomorrow
Collaboration support from Digital Pharma Lab's industry experts
Why can Bayer bring you within this programme?
Expert support and a dedicated point of contact
Access to their international ecosystem
Prototype and launch innovative products or services together
We are launching this call for applications to empower deep tech and digital startups, and turn collaborations into new businesses for the benefit of everyone. New possibilities in health will be shaped by innovative ideas that help patients and healthcare professionals thrive together.
Can your solutions help achieve these two goals?
A) "Bayer on-demand" for customer engagement:
Help us improve the accessibility of our services for healthcare professionals.
How to optimize customer engagement through a pull solution?
Are you able to build a best in class solution in services accessibility, such as contact on-demand and documents on demand?
How to develop a flexible solution to respond to different healthcare professional segments?
B) Improving healthcare through data:
Help us improve the journey, management, and prevention of cardio-metabolic events.
How to manage Big data and AI for Healthcare?
How to benefit from HealthTech solutions powered by data collected from connected devices?
Do you know how to build on data aggregation from different sources (interoperability)?
Do you have experience in remote monitoring?