Technology & Business Cooperation Days 2021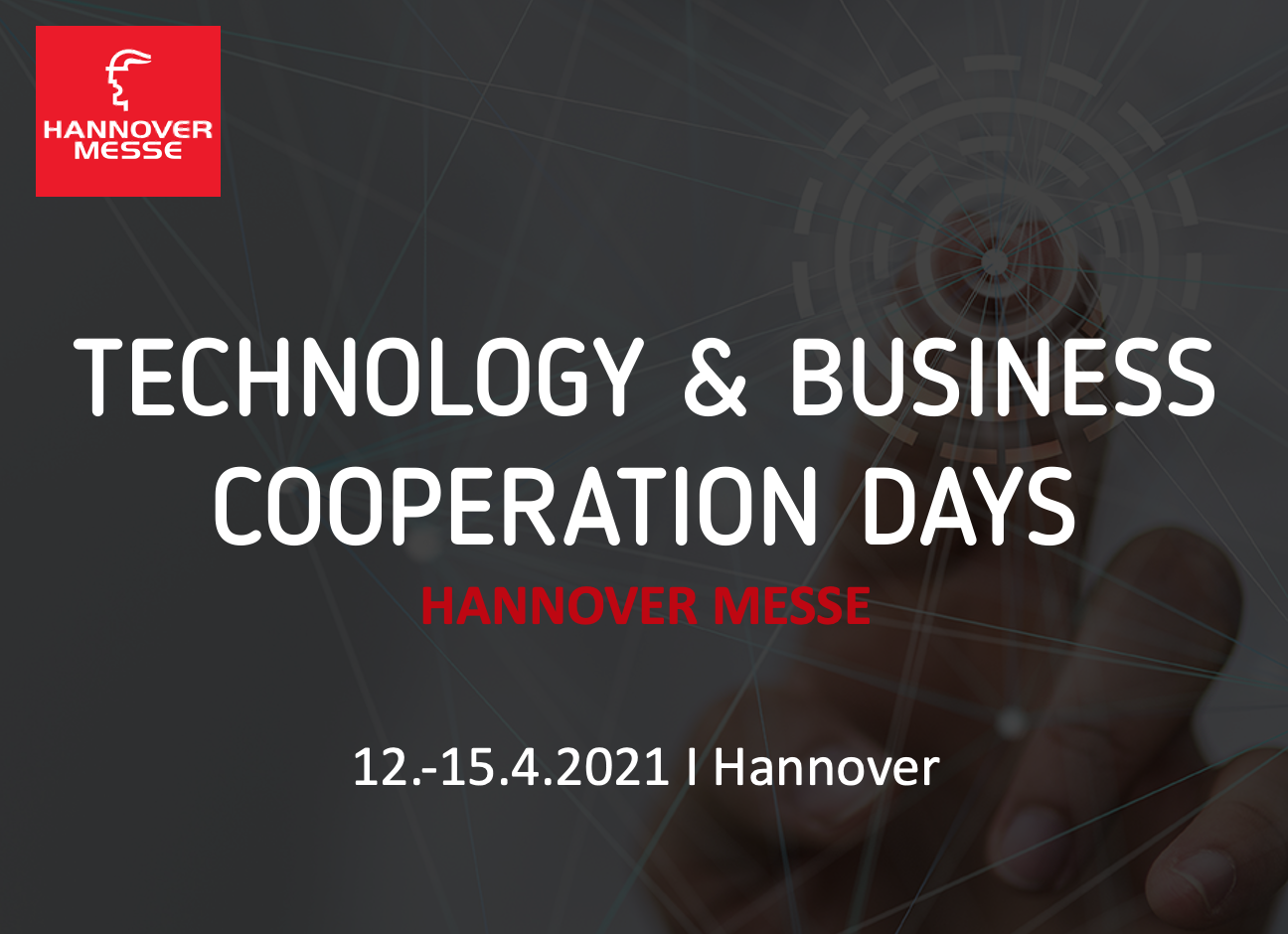 Technology & Business Cooperation Days is an international trade fair that focuses on Industry 4.0. and Smart Factories and that will be held virtually from April 12 to 15, 2021.
The real Enterprise Europe Network brokerage event during Hannover Messe 2021 "Technology & Business Cooperation Days" is planned to be organised as a "virtual brokerage event" again. The HANNOVER MESSE 2021 itself will also take place as an online event, due to COVID-19.
This means that all bilateral meetings organised within the framework of the brokerage event will be held as online meetings/video-conferences via the event's website. We will schedule meeting slots in April (12/4 –15/4). You do not need any additional software, only an up-to-date web browser, a microphone, and a webcam.
This event is organised by the local Enterprise Europe Network partner (NBank Hannover) and many other network partners ensuring a strong participation of German, European and international participants.
With the "Technology & Business Cooperation Days 2021" Enterprise Europe Network Niedersachsen will continue the great success of the 2020 virtual edition with nearly participants from 63 countries (229 from Germany), the support of more than 150 network partners and 10 other partners (e.g. NCP Energy, NCP Production, industrial and automotive cluster organisations,…).
The brokerage event offers SMEs and research organisations the opportunity to find and meet partners for commercial agreements and for research & technology cooperation in the above-mentioned fields.
Focus
Industry 4.0 and Smart Factory solutions
Resource and energy efficient manufacturing technologies
Sustainable Energy & Mobility
Measurement Tools
The registration for the "virtual/online" Technology & Business Cooperation Days is free of costs. Pending meeting requests can be confirmed or declined until 5th April 2021.
Take your chance to innovate! Gain new opportunities and competitive advantages through R&D and technological as well as business co-operations.
Why participate
Showcase your most favorable projects, products or know-how
Targeting potential business partners in pre-scheduled face-to-face meetings
Initiate cross-border contacts and co-operations
Find new commercial/technological/research partners
Get the latest information on industrial related research results
Meet and share views with researchers and experts
Easy access to enterprises and scientists in the thematic focus.