Startup Olé 2021 – Apply Now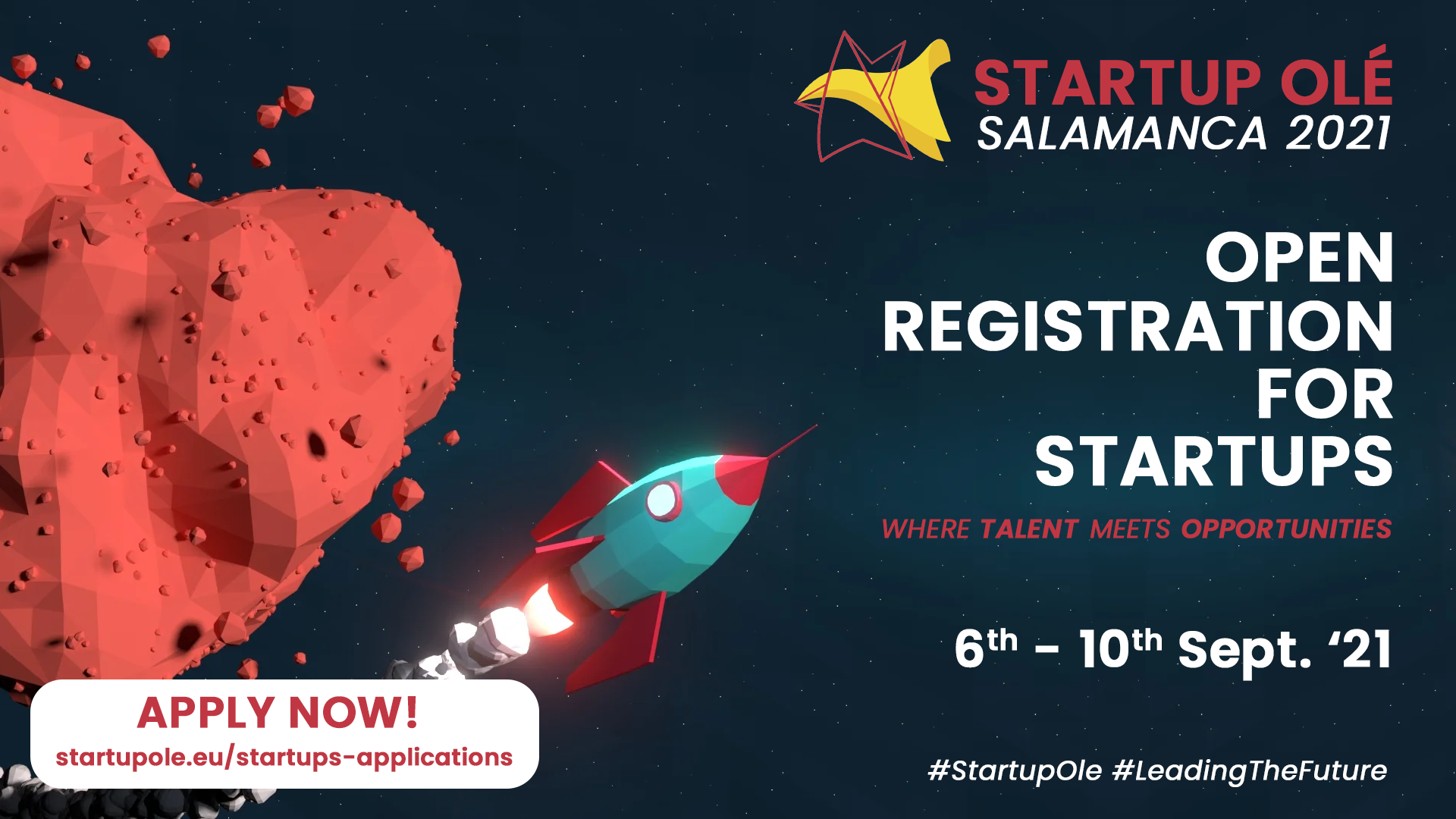 At Startup Olé, thousands of attendees, startups, accelerators, corporates, investors, universities and public institutions will meet to develop synergies, secure financing opportunities and boost the digital transformation through a series of activities like matchmaking, roundtables, networking app and of course networking the Spanish way!
The event will be opened by Mariya Gabriel, Commissioner for Innovation, Research, Culture, Education and Youth of the European Commission and Dubravka Šuica, Vice-President for Democracy and Demography at the European Commission.

The 7th edition of Startup OLÉ becomes the first deep tech startup event in Europe.

More than 160 corporations, investors and institutions have confirmed their participation to date.

REInA, Startup OLÉ's rural innovation platform, will play a starring role at the event following its successful European launch in April.
Startup OLÉ is becoming the first deep tech startup event in Europe. This ground-breaking event is associated with the fourth wave of innovation on the European continent, as Startup OLÉ is the event for universities and university startups, which are the cradle of science.
This new wave of innovation helps to solve some of the problems that were left unsolved in the previous wave. To do so, deep tech startups focus on three main themes. Firstly, problem orientation, then technology, as it is the driver of innovation, and finally, how the system is built, focusing on design, construction and learning. All of this takes the digital revolution to a whole new and incredible level.
The advantage of deep tech startups is that their technology cannot be replaced as easily as other types of technology. It is not easy to replicate because specific knowledge is needed. For all these reasons, support for deep tech startups is vital for Startup OLÉ to propel Europe into this new wave, placing the event and the continent at the forefront of innovation. In this scenario, Startup OLÉ becomes a vital player, as it will be the first international startup event in Europe to focus on and support deeptech startups, that is to say, those based on verticals and technologies such as biotechnology, artificial intelligence, robotics, drones, space technology, etc.
Startup OLÉ is closely connected to European universities, progress and innovation, empowering university-related startups and spinoffs, some of which are related to deep tech and the fourth wave of innovation that is currently taking place. It will also help with one of the main challenges of deep tech, funding, as it will bring together international investors and corporations from all over the world.
The 7th edition will be the most international.
After the international successes of the launch of REInA and the 3rd LATAM ROADSHOW, Startup OLÉ celebrates its 7th edition from 6th to 10th September 2021 in Salamanca, with the aim of, once again, bringing together the European and international entrepreneurial ecosystem in person and digitally, and to exceed the extraordinary figures of previous years. Let's remember that Startup OLÉ 2019 gathered more than 20,000 attendees from 120 countries, 850 startups and 660 speakers, with an investment portfolio of more than 50 billion euros. Startup OLÉ 2020, despite having to be held in online format due to the socio-health emergency situation, achieved the participation of more than 260 startups, 304 speakers, more than 120 participating countries, 50 round tables and 320 "1-to-1" meetings.
The relevance that Startup OLÉ has achieved is confirmed, in addition to its high participation figures and institutional support, by the presence in past editions of personalities such as His Majesty Felipe VI, King of Spain, who inaugurated Startup OLÉ 2018 and who chairs again the Honorary Committee of Startup OLÉ, Mr. Marcelo Rebelo de Sousa, President of the Republic of Portugal, who also inaugurated the 2018 edition, and the President of the Government of Spain, Mr. Pedro Sánchez, who participated in the 2019 edition. Ms Mariya Gabriel, Commissioner for Innovation, Research, Culture, Education and Youth of the European Commission, will participate again in the Startup OLÉ 2021 edition, after her presence in 2020.
For the 2021 edition, Ms. Dubravka Šuica, Vice-President of the European Commission for Democracy and Demography, Mr. Victor Negrescu, Vice-President of the Committee on Culture and Education, Mr José Carlos García de Quevedo, President of the Instituto de Crédito Oficial (ICO) and Mr. José Bayón, CEO of ENISA, Mr. Carlos Manuel García Carabayo, Mayor of Salamanca, and Mr. Javier Iglesias, President of the Salamanca Provincial Council, among others, have confirmed their participation.
The new edition also has the backing of major corporate and institutional partners, including private and public corporations such as ENAGÁS Emprende, Iberdrola, Acciona, Red Eléctrica (Elewit e Hispasat), BFA (Business Factory Auto), Accenture, RTVE – Impulsa Visión, Caixa Capital Risc, Capital Energy, Oracle for Startups, MONDRAGON, Renfe, Guardia Civil, Spanish Red Cross, ONCE Foundation, and Bolsas y Mercados Españoles (BME), ICO-AXIS, ENISA, CDTI (Centre for the Development of Industrial Technology), INECO, etc. Funds and investment groups such as Pegasus Tech Ventures, Axon Partners Group, Encomenda Smart Capital, Nexxus Iberia Private Equity, Swanlaab, René de Jong Inversiones SL, InnMind, Blackshiip, Polígono Capital, Redwood Ventures, Grid Exponential, Cometa, Dux Capital, Ricari, Keiretsu Forum will also participate, and venture capital associations like ASCRI, AMEXCAP, ARCAP, ACVC, ColCapital and ABVCAP. The main Latin American startup associations will also be present, such as ASEA, ASEM, Start-up Chile, ABSTARTUPS and the Spanish AES. In addition, the Argentine, Colombian, Chilean, Portuguese, Brazilian and Mexican governments, among others, will be taking part. Institutions and entities like the RTVE-USAL Chair, WA4STEAM Women Angels for STEAM, the National Institute of Intrapreneurship, ELCAMPUS360, the Entrepreneur's MBA: 360MBA, the Spanish Association of Business Schools, AgroTech Spain, the Carlos III University of Madrid (UC3M), the University of Jaén and the University of Cádiz, or business schools such as SMAT Business School and MSMK University will also participate.
From a local, regional and institutional point of view, Startup OLÉ has the broad support of the City Council, the Provincial Council and the University of Salamanca, allowing one more year that the name Startup OLÉ continues to be associated with this city synonymous of talent, history and innovation. All of these means that Startup OLÉ will be held in a central and privileged area, specifically in emblematic spaces such as the Hospedería Fonseca, the Colegio Arzobispo Fonseca, the USAL R+D+i building, the San Blas auditorium and the San Francisco park. These spaces make it possible to meet one of the priority objectives of this edition, which is to maximise the holding of activities in open-air spaces, in order to ensure the safety of the participants attending the event in person. For example, the business rounds will take place in the cloister of the Hospedería Fonseca, as well as the networking meetings, which will be held in the cloister and in the San Francisco park, next to the fairgrounds.
At the same time, it has the assistance of the media, which are essential partners for publicising the startups and amplifying the message of Startup OLÉ. Among them are RTVE, OK Diario, Business Insider, Emprende TVE, Startups Magazine, Irish Tech News, Club del Emprendimiento, MuyPymes, Byzness, PRO Network, Business Insider México, Negocios.tv, Negocios de Carne y Hueso, Capital Radio, Dirigentesdigital.com, Mundoemprende, La Crónica de Salamanca, Visto de Otro Lado, Wildcom, ECOmedios, El Observatorio del Trabajo, Salamanca de Cerca, etc.
The Startup OLÉ 2021 format ensures all its activities
The format proposed by Startup OLÉ 2021 allows the entire entrepreneurial ecosystem to participate in person and digitally. To this end, on 6th and 7th September it will offer an online programme with activities including matchmaking, a fair with virtual stands, round tables and pitch competition, among others. If the socio-sanitary conditions allow it, on 8th, 9th and 10th September there will be an onsite programme with the appropriate security measures and the aforementioned activities, in a face-to-face manner. As in previous editions, sessions such as the Investor/Open Innovation Forum, Accelerator Assembly, Public Administrations and Media, University Pavilion or REInA will be included, focused on providing solutions and answers to the concerns generated by an interconnected, technological and social world.
On 7th September, the online programme will feature the largest Ibero-American Forum to date, consisting of several international round tables with top-level speakers and representatives of the various venture capital associations from six countries, such as AMEXCAP -Mexican Private Equity Association-, ARCAP -Argentine Private Equity Association-, ASCRI -Spanish Association of Capital, Growth and Investment-, ACVC -Chilean Venture Capital Association-, ColCapital -Colombian Association of Investment Funds- and ABVCAP -Brazilian Private Equity & Venture Capital Association-. In the same line, a round table will be held with Ibero-American startup associations such as ASEA -Association of Entrepreneurs of Argentina-, ASEM -Mexican Association of Entrepreneurs-, Start-up Chile, ABSTARTUPS -Brazilian Association of Startups-, the Spanish AES -Spanish Startup Association- and Startup Portugal.
Technological tools for networking and matchmaking.
As a novelty, the event provides all participants with a comprehensive networking platform, which allows them to identify other participants based on verticals and technologies, as well as the role they play (startups, corporations, investors, etc.) and request meetings, both in person and by videoconference, which ensures a wide level of contacts and return. It also includes a section with digital stands for sponsors and startups. In addition, the organisation provides investment funds and corporations with a tool for analysing and filtering startups, based on verticals, technologies and very useful metrics, to identify and close meetings with the startups that best meet their needs and demands.
Leaders of verticals and technologies.
Startup OLÉ continues to be a leading event in verticals such as energy, sustainability, mobility, automotive, media, social/humanitarian impact or telecommunications/satellites, infrastructures and space. This edition has the confirmation of major references in the world of technology such as Hispasat, leader of the Telecommunications vertical, Impulsa Visión – RTVE at the head of the Media vertical, Acciona as leader of the Infrastructures vertical, BFA (Business Factory Auto) as leader of the Auto-Tech vertical, the European project Go2Space, coordinated by UC3M, leader of the Space vertical and the Spanish Red Cross as leader of the Social vertical. In addition, the offer in the field of rural innovation is extended with the inclusion of REInA, led by the Salamanca Provincial Council and the Guardia Civil. The REInA vertical will include, among other activities, round tables formed by local action groups, under the umbrella of the European Leader Association for Rural Development (ELARD), with the confirmed participation of its president, Ms. Marion Eckardt, as well as other relevant actors such as Repueblo, Rumbo Rural, Ruralízate, Ruralizable, Puebloo or Proyecto Arraigo. For all of the above, Startup OLÉ becomes the largest technology event for startups held in Empty Spain.
To facilitate transport and access to Salamanca, the organisers are working with Renfe as Official Transport for the event.
Startups have until 15th July to register for Startup OLÉ 2021.