Webinar: How to Pitch…EIC Accelerator Jury?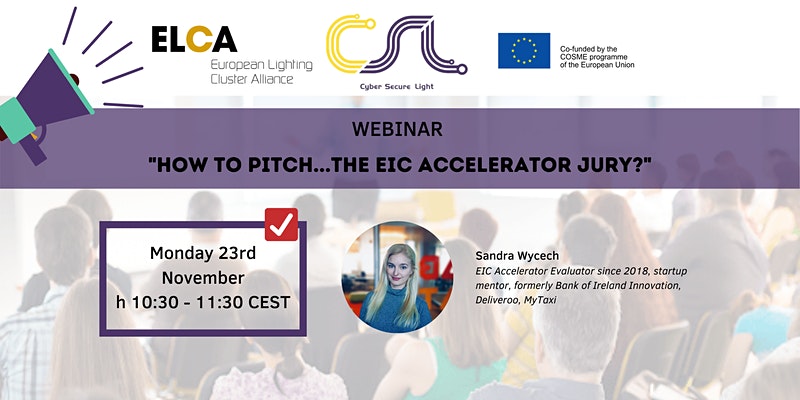 ELCA, in the framework of the COSME-funded CYBER SECURE LIGHT project, organises a capacity building webinar "HOW TO PITCH…THE EIC ACCELERATOR JURY?"
The objective of the webinar is for participants to gain an understanding of how the EIC Accelerator works focusing on the process and selection criteria during the interview stage. The session will cover insights on the purpose of the interview round and what it consists of, what to expect and specific guidance on how to prepare for the pitch/Q&A part. During the webinar, participants will also receive practical advice on creating and delivering a convincing pitch. The knowledge and advice delivered during the webinar will help participants to pitch with confidence and alleviate fears.
Topics:
• About the EIC Accelerator
• Selection criteria & process
• What to expect during the interview stage
• How to create and deliver a convincing pitch
• How to prepare for the Q&A session
• Pitching tips & advice
Expert: Sandra Wycech, EIC Accelerator Evaluator since 2018, startup mentor, formerly Bank of Ireland Innovation, Deliveroo, MyTaxi.
The webinar will take place through the Zoom platform, once you subscribe you will be sent a link to have direct access online.